Spun DVD
Description
Spun
by Morgan Strebler


View Clip

What would you say if someone told you they could VISUALLY bend a BORROWED COIN in MID-AIR... without touching it?

Impossible.

That's what we said... Until we saw Morgan do it live for a circle of 100 screaming fans!

This is as clean as it gets. The floating coin is as precise and breathtaking as an olympic figure skating routine, and the bend is as earth-shattering as an Indy car crashing into the wall at 220 miles per hour.

You'll learn the full routine with all of the subtleties.
Spun features:
Live performance footage on the streets of Las Vegas
Complete lecture-style explanations
Special follow-along practice session with Noblezada
Running Time Approximately 80min

Additional Image(s)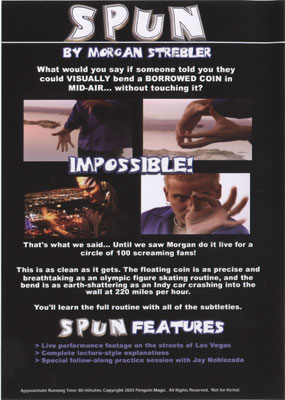 Reviews
Spring Sale - Check these items weekly
Products coming down the pipe - PRE-Orders ONLY!!